Fahey Bank Charlie Evers Show (Click for Information & Archives)
"Now" with Scott Spears (Click for Information & Archives)
Adam The Computer Guy (Click for Information & Archives)
Scott, Shawn, Terry, and "Golden Voice" Ted Williams at The Columbus Clippers Game
Scott, Adam, Terry, and Special Guests, from The Mister Rogers Exhibit at The Heinz History Museum in Pittsburgh on March 22, 2018
The Super Terrific Whiz Bang Gallagher Show
The Rick Rantz Radio Show
The Protector Show with Security Expert Ed Johnston
The "Golden Voice Show" with Ted Williams
"The Theology Guys" with Pastors Brett Cornelius and Rhett Crabtree
Heaven Express
Heaven Express is an original program written and produced by Paul and Glena Savage.
It is our intent to use this format to worship God in a family-type presentation.
Glena produces a segment each week called "The Heart of the Composer".

She shares stories about a composer or song and follows with a solo piano arrangement.
All other music and lyrics are produced by Paul and Glena.
The program includes Scriptural Truth, wisdom, humor, music, and poetry.
We also invite special Christian guests who share their particular ministry and personal
testimony regarding their walk with the Lord.
As the opening song queries…
"Is that a train I hear?
Could it be drawing near?
Could it be the Heaven Express?
If the Lord came today…
Could you say
'I'm ready for the Heaven Express'?"
The Pastor's Spot
"Hi, this is Pastor Steve Whitaker of Community Christian Fellowship. I am excited to begin programming with WWGH Radio. The Pastor's Spot will be a current event program, discussed from a Biblical perspective. I look forward to getting to know many of you through the call in number."
"Over Coffee" with Marge, and Nan, and Linda
"Talk of the Town" with Marge Hazalett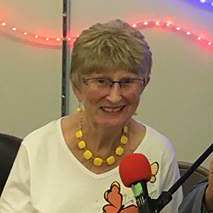 Steve Cannon
"The Exchange Club" with Scott Spears, Mary Ann Michaels, & Charlie Evers
"Voice of a People" and "The Chat" with Linda Sims
WWGH Day in LaRue: June 15, 2018
4th Anniversary Celebration: June 7, 2018
Labor Day Radiothon: September 3, 2017
"Remembering Dick Gregory: A Life that Broke All the Rules": August 25, 2017
March on Heroin
Art The Bigfoot Man
The Marionaires Barbershop Harmony Chorus
Special Political Presentations
This Recording is Provided for Personal Listening Only.
It May Not Be Used by Candidates for Advertising or Other Promotions.
Christmas Shows
Yearly Highlight Shows