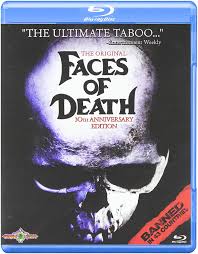 Remember "Faces Of Death"?
"Murphy Brown", "Will & Grace, "Magnum P.I."?  No thanks.
Let's bring back "Faces Of Death"!
Faces of Death

French VHS cover

Directed by
Conan LeCilaire
Produced by

William B. James
Herbie Lee
Rosilyn T. Scott

Written by
Alan Black
Starring
Michael Carr
Music by
Gene Kauer
Cinematography
Michael Golden
Edited by
James Roy
Distributed by
Aquarius Releasing

Release date

Running time

104 minutes
Country
United States
Language
English
Budget
$450,000
Box office
$35 million
Faces of Death (also released more recently as The Original Faces of Death) is a 1978 American mondo horror film directed by Conan LeCilaire and written by Alan Black.
The film guides viewers through graphic scenes depicting a variety of ways to die and violent acts.